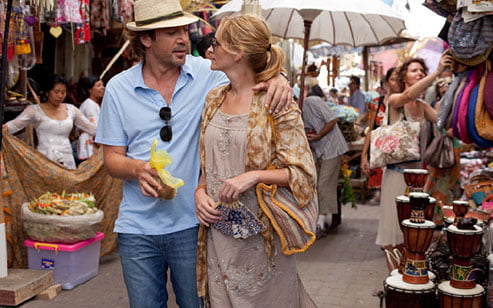 Eat Pray Love – Sony Pictures (USA)
Stan Wlodkowski: From Bali with love – Jakarta Post
Another chapter of Julia Roberts-Javier Bardem's blockbuster Eat, Pray, Love (EPL) ends this Saturday, with cameras taking their last shots in Bali of a film spanning three countries and three takes on life.
Written and directed by Ryan Murphy, EPL brings to the movie screens Liz Gilbert's same-titled memoirs of her journey of self-discovery through Italy, India, and Indonesia.
EPL's executive producer Stan Wlodkowski said the final day of filming in Bali was serendipitous for cast and crew, with the tourist island offering them all a chance to unwind after a three-month whirlwind tour through New York, Italy, India, and Bali. "We had just come from India, which was much more challenging because of the heat and the crowds. I was always very happy that Ryan wanted to shoot the film following the book's sequence.
"So we knew we would end the shooting in Bali, which was a better plan for the cast and crew. Bali is a strong finish for us. The crew all commented on how it was an amazing way to finish our journey by following Liz's footsteps – she had it right – Bali is love," said Wlodkowski on Thursday, at the Ubud home of Ketut Liyer, the fortune-teller in Gilbert's book who predicts her return to Bali.
Bali's magic has been at work on cast and crew, Wlodkowski said, with some staying on to holiday with family post-shoot. "Many are staying on to discover the island and some are considering relocating here."
Balinese magic has also been at play in terms of the weather. A rain man, known locally as a balian hujan, was employed on the film to maintain clear skies.
"We have done well with the weather. We did have a rain man and we have not lost a day's shooting to bad weather," Wlodkowski says.
"There is a ton of magic in Bali. I don't know what's in the water. Everyone here is so welcoming. Early on when I was scouting locations, I was peeking in the gateway of a house I thought could be used for the Ketut Liyer compound. So I was peeking in the gateway and before I knew it I was having tea with the family. To me that is magical. I don't know about spirits, but that is magical."
He adds that aspects of Bali, such as its rigorous adherence to its ancient Hindu beliefs and rituals, and its physical limitations, are elements filmmakers must be prepared for if they plan to film in Bali, but are also the very elements that make Bali such an attractive location for filmmakers.
"We have honestly gone incredibly well. I do think it's fair to comment there are cultural processes existing and it's important that filmmakers work respectfully with that, as we have done. What makes Bali or other exotic locations special are the places off the beaten track; such as the road to Mount Batur. The logistics of getting crew and cast to remote areas are more difficult, but that's why we came to Bali."
As well as the islands' sheer beauty as a film backdrop, there was the added benefit of ample top-class accommodation, bountiful numbers of drivers, and a staggeringly high percentage of English-speaking locals to help out.
"In other locations, this exotic there is often a language barrier, but in Indonesia many people are bilingual and this makes it so much easier. Filming in the Czechoslovakia Republic we needed 14 translators on the set," said Wlodkowski adding he hopes EPL will inspire other major filmmakers to use Bali as a location."
"We have paved the way for major films here and I hope others will benefit from what we have learned and what has been taught during our Bali filming. It all depends on the script, but Bali could work for a range of films. Also because of tourism the island has the infrastructure, like accommodation that makes it a good fit for filmmakers to bring stars of Julia's level to Bali."
Indonesia also has on the ground a professional body to facilitate filmmaking through the Bali Film Centre (BFC), which Wlodkowski said had been greatly valuable in EPL's Bali shoot planning.
"EPL actually started shooting on the heels of the BFC's annual Balinale International Film Festival," said Wlodkowski, who attended last year's festival as the BFC's guest.
The Hollywood film also benefits from the screen presence of top Indonesian actress Christine Hakim, for whom Wlodkowski has immense respect.
"Christine is a force of nature and a great talent. When I first came to Bali I kept hearing about local talents and everyone spoke of Christine as the Meryl Streep of Indonesia. It was our great good fortune we had a role for her as Wayan…"
Wlodkowski also has praise for the 250 Indonesian crew and almost 1,000 Indonesian film extras and behind-the-scenes workers, whom he says were remarkable.
He also cited assistance "from the President down" with the Culture and Tourism and Trade Ministries smoothing out red tape, assisting with visas, and also with the importing of the tons of equipment needed to make a feature film.
On Saturday, top officials, including Culture and Tourism Minister Jero Wacik, Director General of Trade Diah Maulida, and Gianyar Mayor Tjokorda Oka Arta Ardhana Sukawati will be on set to watch the final filming and meet with the film's writer/director, producers, and star Julia Roberts. "They have been invited in recognition of the great value of their collaboration on the making of this film here in Bali," Wlodkowski said, adding the endorsement had reached the grassroots.
"As we arrived in villages to film there were banners across the road welcoming EPL to their village. Arriving early in the morning and driving under these banners of welcome was very special. We do apologize for any inconvenience to villagers and we do understand that filmmaking can be disruptive."
In the village of Bentuyung on the outskirts of Ubud, a location during the first days of filming that had reportedly complained about the film and that now hosts the closing of the film, a banner reads "Welcome Back EPL" surrounded by peace signs. It is perhaps this distinctly Indonesian notion of welcome that overrides any little hiccups in a project of the scale of EPL.
Even road closures in heavy traffic barely ruffle the feathers of Indonesians.
"We have had to stop traffic and I do hope this has not been a nuisance. Filmmakers always stop traffic. But here in Bali people are so acclimatized to stopping traffic for religious precessions they just accepted the wait and relaxed until we had finished shooting."
It's really no wonder people fall in love with Bali.