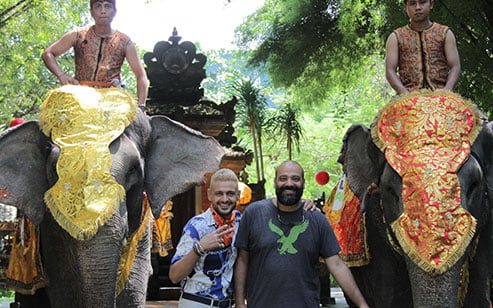 Ramez Galal Show – Masscomm 98 FZ LLC Dubai (sister company of E-Producers, Cairo, Egypt) (UAE)
Ramez Galal, the famous Egyptian Comedy star, travels to Bali in the search of new adventures and pranks on his unsuspecting celebrity guests.
The 30 episodes filmed over 20 days, were shot on the amazing Telaga Waja River, Karangasem, North Bali. Managed under BF's professional supervision, and the direction of Line Producer Iwan Setiya Budiman, the production had a local cast and crew of over 80, including 39 camerapersons stationed at three separate points along the remote jungle route.
Elaborate sets and props were created by the BFC creative team exclusively for the large scale production. The show's broad range of activities included helicopter drops, zip lines, and elephant tricks.
One of the most popular entertainment shows in the Middle East, Ramez Galal Show airs during Ramadan on Middle East Broadcast Center (MBC) network.