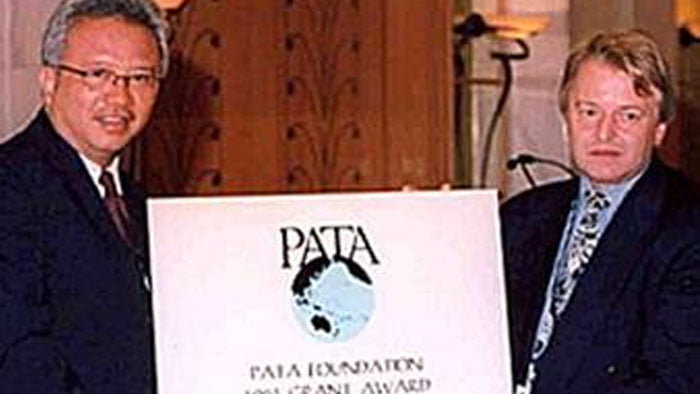 BALI, Indonesia The Pacific Asia Travel Association (PATA) Foundation recently awarded a US$5,000 grant to the Bali Film Commission (BFC) for a film project documenting the influence of Balinese dance on early tourism to Bali.
Other cultural projects receiving PATA cultural grants this year were Levuka's Cultural Landscape, Fiji; and Talaga Bay Wharf Restoration, New Zealand.
The Bali project utilizes recently discovered, rare color 16mm Kodachrome footage, shot by former Swedish diplomat T.H. Wistrand in 1939. Sequences from the Wistrand footage depict, among others, I Ketut Marya (Mario), considered the greatest Balinese dancer of all time. Balinese dance culture was first introduced in the west at the Paris Colonial Exhibition in 1931.
PATA Foundation's selection committee said it was proud to support the Balinese Dance Documentary Project of Indonesia. Presently, there is no other such oral/visual history available. Therefore, this project provides an invaluable resource for future generations worldwide.
PATA Foundation Board of Trustees Vice Chairman Tim Robinson announced the beneficiaries of the 2003 PATA Foundation grants at the PATA Board of Directors Meeting in Singapore on October 4. Thamrin B. Bachri (pictured at left) from the Indonesian Ministry of Culture and Tourism accepted the grant award on behalf of Bali Film Commission.
Previous grants from the PATA Foundation to Indonesian projects since 1985 include Pulau Banyak archipelago; Kasongan pottery, Yogyakarta; Environmental Bamboo Foundation, Bali; Woodcarvers, Desa Laban, Central Java; Javan rhinoceros, Ujung Kulon National Park; Komodo dragons study; Ingin silversmiths, East Java; Batik producers, Bali; and a Duncan Sandys scholarship.