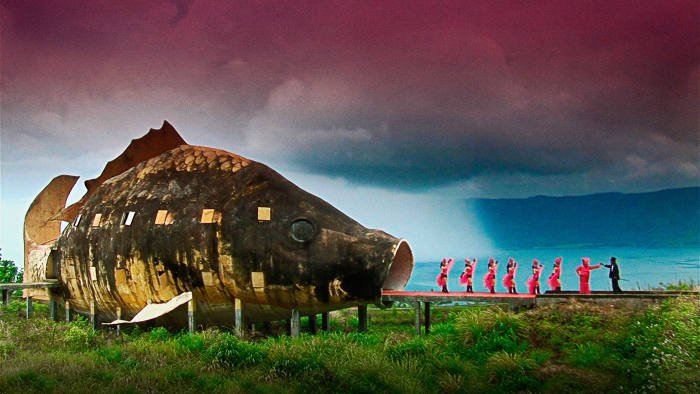 Indonesia's dark history was brought to world attention in 2012 with the release of The Act of Killing. In the documentary, by US director Joshua Oppenheimer, death squad leaders behind the country's anti-communist purges of the 1960s re-enact their crimes.
Among the most memorable sequences in the film, which was nominated for an Oscar in 2014, is a moment when one of the killers, Anwar Congo, stands on a rooftop in Medan, in the North Sumatra province, where he murdered many of his victims, spitting, wretching, blinking the tears from his eyes.
As the credits roll, it becomes clear why no Indonesian could tell this story: many of the crew remain anonymous. "If they put their name on this, in addition to the physical danger . . . and the legal reprisals they might face, they might never be able to work in Indonesia again," says Oppenheimer, who has made a sequel from the perspective of the victims, The Look of Silence.
There is undoubtedly some danger for any Indonesian digging up this shrouded and painful episode in the country's history — particularly from vengeful individuals unhappy with the portrayal of their past.
Even Oppenheimer says that he could visit Indonesia following the release of his films, but he is not sure he would "make it out alive". Nevertheless, local film-makers do address difficult topics. Nia Dinata's features, though often fictional, tackle controversial feminist themes. Often through allegory, Garin Nugroho's films deal with tough socio-political issues, from Indonesia's street children to tensions between the government and the population in the West Papua province.
Sidi Saleh, who directed Maryam, a film about religion and autism awarded best short film at last year's Venice film festival, reiterates the fear of reprisals: "If they want to track [the Indonesian crew] down, it's easy." But there are other factors that stop the local industry producing films that trigger international debate.
Film-makers must submit their work to the country's censorship board, which has faced rebuke from the international film community and non-governmental organisations such as Human Rights Watch, for stifling debate about sensitive historical events and contentious religious subjects.
"It is very, very tight censorship — not like in the west," Saleh explains. He says there is also self-censorship in the industry, where film-makers avoid controversial topics to avoid upsetting the regulator.
Even once a film is made there are further hurdles as local productions compete to be shown on a small number of screens. Indonesia has just 3.8 screens per million people, according to IHS, compared with 126.5 in Iceland, which has the highest ratio. One chain, Cinema 21, dominates the sector.
Commercial screening remains out of reach even for well-known film-makers, such as Shalahuddin Siregar, the award-winning director of The Land Beneath the Fog, a documentary about a small mountain village on the island of Java. "We never had a chance to have a cinema release because it is very expensive and because of the monopoly of Cinema 21," he explains.
Yet Charlotte Jones, cinema analyst at IHS, says competition for screen slots will soon become easier as Lippo Group, a property developer, has announced plans to build 1,000 new screens in the next five years.
But The Act of Killing has helped draw attention to Indonesian cinema and new talent is emerging, with young people experimenting with film-making as mobile technology becomes cheaper and more accessible. "There's more confidence," says Gabinetti. "Getting that recognition from abroad has helped them to believe in themselves."
Rising stars
Joko Anwar, a former film critic, is among the best-known film-makers in Indonesia. Among his most celebrated works is Kala, a noir thriller about an investigation into the death of five men burnt alive by a mob in an unnamed republic. "He has some avid fans," says Eric Sasono, a film critic. "But sometimes for the general audience his approach is too high taste."
Nia Dinata is an award-winning feminist film-maker whose works include some of the biggest hits at the Indonesian box office in recent years. One example is Arisan!, a light comedy drama co-written with Joko Anwar. The film, which includes a gay kiss, was an unlikely hit in the world's largest Muslim-majority country, with more than 600,000 viewers.
Garin Nugroho has produced several works with a strong socio-political message, both in the highly repressive years when Suharto was in power and more recently. Among his best-known works is Leaf on a Pillow, which looks at the lives of street kids in the Indonesian city of Jogjakarta, and Love on a Slice of Bread, his debut feature about a couple travelling across the island of Java.
Among the watchdog's most high-profile decisions was last year's ban on Noah, starring Russell Crowe. The Hollywood-made biblical epic threatened to cause controversy in the Muslim-majority country.
In fact, Indonesia has a long — if poorly documented — cinematic history. The country's Dutch colonial rulers used film to teach audiences back home about the faraway archipelago.
Cinema was later used as propaganda, both during Japanese occupation in the second world war and by Indonesia's first presidents, Sukarno and Suharto, who ran the country with an iron fist between 1945 and 1998.
In recent years, however, independent cinema has blossomed, thanks to the advent of democracy, radical changes to freedom of expression and new technology that has cut the cost of film-making. Box office revenues have soared, reaching Rp2.96tn ($214m) last year, up from Rp1.08tn five years earlier, according to IHS Technology, a research company. This growth is expected to continue in a country with a population of 250m and a growing middle class.
Yet local film-makers have produced few groundbreaking documentaries. One reason is scarcity of funding, with no support from the government, film-makers say. They can apply for grants from overseas institutions, but these are mostly open to those with experience or strong connections in the international industry.
Saleh, for example, says he largely finances his films himself, with support from producer Amalia Trisnasari, who also works as a cinematographer to raise funds. "If Indonesia wants to produce films that are good quality, you need to fund the right person to do it, but the problem now is that a lot of the right people don't get supported," Saleh says. "They're not really good at presentation."
With budgets tight, many Indonesian film-makers are forced to produce features that will succeed commercially. That means catering to the largely young audiences that flock to multiplex cinemas in the country's shopping malls, looking for low-grade horror and romantic comedies.
"They are quite predictably comic, not particularly high-quality films that teenagers and young adults enjoy," says Ben Murtagh, senior lecturer in Indonesian and Malay at the School of Oriental and African Studies in London. "In Indonesia there is going to be less risk-taking because you don't have the cash to take risks with."
There are also very few established film schools. And Bambang Supriadi, lecturer at the Jakarta Institute of Arts, says the state must do more to recognise and regulate the courses that do exist.
Local film-makers complain the government hampers their work with not just strict censorship but also a complicated licensing process for shooting in public — which can involve the same corruption and extortion that has dogged development more widely in the country.
"It's just time-consuming mainly — it's not something you could do with a phone call as you could in the US or London," explains Deborah Gabinetti, director at the Bali Film Center and founder of the Bali International Film Festival.
Source: https://www.ft.com/content/8d90a408-0e9a-11e5-8aca-00144feabdc0